Status: Paused Development
Release Date: September 13 2006
Total No. of Versions: 2
Available Versions:
v3.31
,
v3.32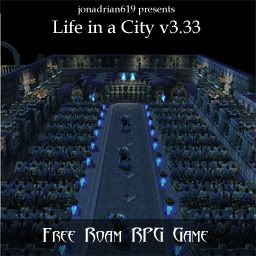 Life in a City is a simulation map designed to let players simulate almost every aspect of a person's life in a metropolis. You can purchase products, seek a job, help other people, and even commit crimes. This is my second map and it has the longest development time (approximately 1 yr. and a half) before C.W.P. But this map is just mainly composed of preset 3D models and whatever I could get my hands on in the data to make the map a reality.
Unfortunately, a guy with the username Farrownarr released a version of this map without asking for my permission. I don't know what it holds inside, but surely he did consider my map as his own.
Life in a City will resume development if I get a new computer set that's proficient enough to let me modify the map. This map is huge, and in a laptop it takes ice ages to load data and sometimes it makes the laptop freeze temporarily. Plus, LiaC will have a bunch or more than a lot of improvements and it will look more real, and textures will be improved to fully simulate real life.